Vaults of Secrets - Chapter 6
I suppose when I accepted your affairs would never stop, I never thought one of it would be the reason our empire would come crumbling down like a pack of cards.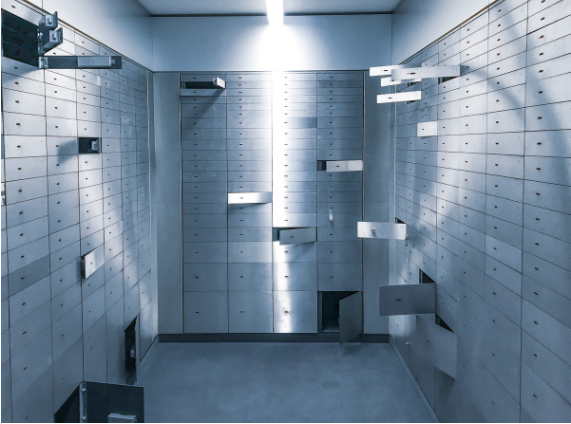 Read Chapter 5 here and Chapter 7 here
"What are you talking about?" Chief Bankole looked up at his screaming wife. She was hysteric and visibly shaken. Whatever it was that has gotten the emotions out of my cold wife must be serious, he thought.
"What do you mean what am I talking about? It's everywhere!!! You have destroyed us Aderogba! We are finished!" She shouted shoving her phone in his face.
He snatched the phone from her, looking for whatever she saw that got her so hysteric. His face lost all colour as he read. He read the headline after headline. "The Bankoles in Trafficking Scandals" "The Bankoles: Heros or Villains?"
"Sharon has opened the vaults! How did this happen? How?" He muttered pacing around the room, sweating profusely. His men had followed Sharon's trail only a week ago, and they told him her car was involved in a car crash. None of the people they met at the scene knew where the victims were taken to, but they were informed the two victims were badly injured and were taken away lifeless.
"Oh, God! Oh, God!" He muttered over and over again, hyperventilating. He looked over at Omolara, who was sprawled on the floor sobbing quietly. He walked over to her, "It's all my fault that bitch got her hands on our vaults. I'm sorry Omolara. I'm sorry I let you down," He sat next to her, his eyes welled up with tears.
"They told me she died from the accident. They said that going to the hospitals to check would draw too much attention to them. But that girl must have survived,"
"I'm sorry Omolara. I've been letting you down for a long time, throwing my affairs in your face like that" He shook his head. "I'm sorry."
Omolara sat up and looked at her husband's remorse face. "It's over Aderogba. We have been brought down to our knees, and by one of your indiscretions nonetheless. I suppose when I accepted your affairs would never stop, I never thought one of it would be the reason our empire would come crumbling down like a pack of cards."
She laughed humorlessly, "We lost Aderogba, and she won."
She got up from the floor, wiped the tears off her face, and stretched her hands to help him up.
Taking her hand, he asked, "Where are we going?" he asked looking confused.
"To freshen up of course," she responded like it was the most obvious next step.
"Freshen up? What do you mean freshen up? Are we running?"
"It's too late for that. The news is everywhere, and if that girl released even 20% of the evidence in the vaults, it's enough to prosecute us. So, I'm sure the police will be here soon, and I will like to look fresh when they get here," Omolara explained calmly, as she dragged him up the stairs to their bedroom.
"What does it matter what we even look like? We are going to jail, Omolara!" Chief Bankole said looking at his wife incredulously.
"That's where you are wrong dear husband." She said smiling.
"You see, image is everything, and when the Police come and lead us out of this house, the press will be waiting with cameras. We cannot look afraid, or guilty."
She turned to look at him, "No one will associate themselves with a guilty person, you know?"
"Wow, that's the evil genius I married," Chief Bankole said looking at her with awe.
Laughing, Omolara said, "Now go take your bath and wear something that exhumes class and power, while I make some calls to some of our powerful friends."
"This is the time they need to get us out of this mess," She added pushing him towards the bathroom.
"Do you think they can get us out?" He asked, hope returning to his face.
"Maybe not out of this crime, but they should be able to get us out of the country, after all, as their lawyer, I have some dirt on them too" She shrugged.
"Now hurry before the police get here," She said as she dialled the first number.
*Originally published 20 October 2020